I had the pleasure of speaking with the Los Angeles chapter of the International Coach Federation last night. We had an amazing group of minds gathered, and here are a few of the notes from our World Cafe discussion.
Some background if you weren't there: Legacy, People, and Meaning are the three core values of the emerging mentality — the essence of what I call The Mosaic Mind.
Click the thumbnails to see pictures of the noteboards. I also listed a few of my favorite insights from each category.
Thanks to all the participants for their contributions!
NOTES ON "LEGACY"
Acknowledge that every moment/decision matters–cumulative
Global perspectives & expanded, long-term worldview
Call on heroes to stand up and lead
Create gentle transitions from Old Island to New Island
Sustainable culture shift that lasts long after current leader is gone
NOTES ON "PEOPLE"
Biz full of Linchpins… all parts matter to the working of the whole
Highlight different talents as positive, not competition
Be the best FOR the world, not IN the world
Be the voice of change
Google model: time on the job to work on what excites you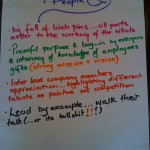 NOTES ON "MEANING"
Storytelling — through whatever medium works
Create community culture
Doing well by doing good
Put action over words
Create space to talk from your gut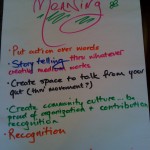 //